Lighting Affects Your Home More Than You Realize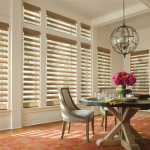 The rooms in your home all have their own individuality…they are created and used for different purposes. The lighting is then chosen to highlight the function and design of those rooms. You probably wouldn't prefer to have a dimmer in your walk-in closet – in that circumstance, you want the light simply on or off. A dimmer in the dining room is much more appropriate, with the purpose of setting the ideal mood based on time of day and circumstance. Your window coverings are no different. There are single functioning shades and dual functioning shades. Before you choose window coverings, you should know the difference.
The Light Switch: Single Functioning Shades
"Ideal for areas that require the simplicity of light turning on & off."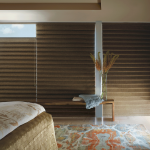 Function. Light is there when you need it, and it is turned off when you don't. The purpose of single functioning shades is to provide you with the ability to use and enjoy the natural light during the day, when you want it, by simply opening your window coverings as much and as little as you want. Just as easily, when you no longer need or desire the sunlight entering, the window coverings can close it off. These window coverings, like the low profile distinction of Designer Roller Shades or the soft ripples of fabric with Vignette Modern Roman Shades, were designed for heightened styling and easy on/off function for your every convenience.
The Dimmer: Dual Functioning Shades
"Perfect for when you need levels of light for a variety of circumstances."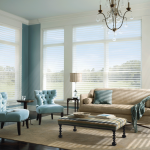 Mood. Entertaining. Atmosphere. Those are words that describe the characteristics of an environment created with dual functioning shades. Your living room, dining room, family room. These rooms serve more than one purpose. In the morning, you may want to sit in your family room, relaxing as the sunrise fills the room with beautiful, natural light. But by the afternoon, all you want is to have the harsh glare diffused for soft, filtered light. The versatility continues with dual functioning shades when you need room darkening and blackout for the ultimate media experience at any time of day. These window coverings, like the stunning Pirouette Window Shadings or the stylish Silhouette Window Shadings, were designed to meet your every need for every circumstance.
Window coverings for the style and function of your home…creating the exact environment necessary to fit your lifestyle. Whether you need the simplistic beauty of single functioning shades or the versatile innovation of dual functioning shades, our team at Timan Window Treatments would love to help you make the perfect choice for your home. Contact us for a free, in-home consultation.