How is the atmosphere in your home? Do you have window covering solutions that provide you with amazing light, a tremendous view and protection against direct sunlight? You deserve to enjoy all of the benefits that are possible with the right custom window shades for your Cleveland area home. There's no risk. With a free, in-home consultation, we can show you what's possible. Before and after window coverings? There's no contest. Take a look…
Does This Look Familiar?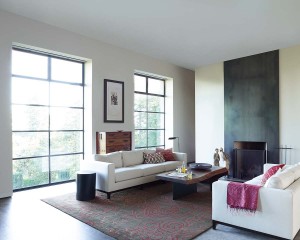 The large-scale windows, the abundance of natural light, the gorgeous view of both landscape and sky – don't you love it? The contemporary appeal of this living room sets an awe-inspiring scene…that is, until you try to live in it. Try entertaining friends. Unless you plan to pass out sunglasses, you might as well schedule any visits for after the sun goes down. How about the blinding glare? The artwork, the furniture, the hardwood flooring – they're no match for this relentless light. Remember that view? It's hard to enjoy it when the sunlight creates an opaque mask as it hits the glass. Not to mention the lack of privacy or hot temperatures, as windows make up most of the exterior wall. How long have you been living like this? Are you ready to see before and after window coverings?
Window Covering Solutions You'll Love!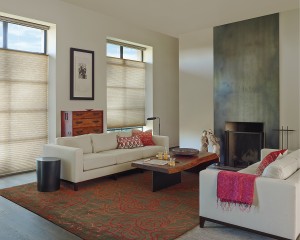 The first thing you'll notice is comfort. You'll be able to relax – choose the desired privacy, temperature and view that fits your lifestyle. The next thing you'll experience is how the adjustment of designer shadings also make everything else in your home more appealing. The colors are more vivid. The artwork is easily enjoyed. Your furnishings stay in great condition, as the UV protection keeps the direct sunlight from them on a regular basis. You can entertain, no matter the time of day. You're always just one adjustment away from setting the perfect atmosphere. You finally can experience the beauty of your view. While large expanse windows are a beautiful backdrop, you don't need that much sunlight entering. Just what you want. It's all up to you. That's the difference of before and after window coverings.
It's time for your home to reach its potential. Enjoy the benefits that come from the difference of before and after window coverings. With our free, in-home consultation, let one of our design experts guide you to window shades that offer you the best light control for your Cleveland area home. Contact our team, at Timan Window Treatments, and let us help you with this home transformation!