Another Cleveland summer is in the books, and a new school year is under way. After the laid-back days of vacation, it can be hard to get everyone back on a regular schedule. How's your family coping with the change? Is the vibe in your household whiny, irritable, and anxious? If so, it probably has more to do with poor sleep than school. Sleep affects your physical, mental, and emotional health, so make sure everyone is getting a good night's rest. How? Try one or all of our superb sleep solutions to bring back your family's smiles and easygoing attitudes.
Solution 1: Lights Out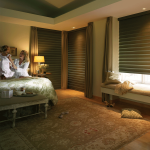 If you want quality sleep, you need to have a dark room. Light plays a big part in regulating our sleep patterns, and exposure to light at bedtime tells our brains that it's still time to be awake. What lights are problems in your family's bedrooms? Are devices—such as phones, computers, and tablets—glowing? If so, cover them or keep electronics out of bedrooms altogether. How about light from outside? Is the sun still up at bedtime? Do streetlights or headlights shine in at night? Control these outdoor sources with window coverings. Consider window shades that feature room-darkening and blackout fabrics to provide the dark environment that is best for sleep. With these sleep solutions, instead of complaining, your family will be snoozing in no time.
Solution 2: Snuggle In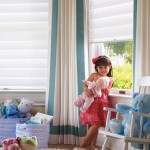 Being relaxed and comfortable are must-haves when it comes to sleeping well, but it can be hard to wind down after busy days of work, school, and practices. A few sleep solutions can help. First, set up a calming evening routine. Instead of trying to hop right in bed after all of the day's activity, take a few minutes to read by a soft light, soak in the tub, or listen to quiet music. Slowing down at bedtime will go a long way in preparing you for a great night's sleep. Secondly, make bedrooms havens of comfort. High-quality pillows, new sheets, or cozy comforters will help everyone snuggle in. Finally, and most importantly, ensure that the temperature of your family's bedrooms is just right. Being too hot or too cold interferes with sleep in dramatic ways. A slightly cool, consistent temperature is ideal. Energy-efficient window shades are a big help in this area. With insulating properties, they can work to maintain a perfect sleeping temperature regardless of the temperature outside.
Solution 3: Automate It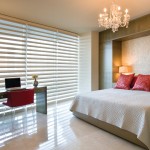 Schedules always fill up when school starts again. Are you feeling the pinch of too many things to do? Why not take one thing off of your list? Instead of running around every day pulling shades and trying to find the right position that lets in just enough light in each room, do it once and then let PowerView automation take over. Set your home's window coverings exactly where you want them and then schedule them to move there automatically. Shades can lower minutes before bedtime so rooms are ready for sleepy heads. Up they can go in the morning to wake everyone while you are preparing breakfast. Don't add anything else to your calendar before you add the innovation of PowerView to your home. Of all our sleep solutions, this one will help you rest easy!
No need to dream of a family that's refreshed, ready, and cheery every day; it can be a reality with these sleep solutions! We'd love for you to visit us and discover all of the stylish and practical options for improving your family's sleep with window coverings. You'll be amazed at the difference they can make in your home and in your lifestyle. If that doesn't fit into your busy schedule, let us come to you! Contact our team at Timan Window Treatments for your free, in-home consultation today.