Family and friends gathered around the table. A fire crackling in the fireplace. Laughter filling the room. The holidays exude feelings of warmth, comfort, and beauty, and your home should too. With only a few weeks left until Thanksgiving, now's the time to create the perfect holiday setting in your home. Seasonal decorations can do a lot to set the mood, but what's on your windows and doors will have the biggest impact. Without the right window coverings, your holiday displays will fall flat and your house won't bring you or your guests comfort and joy. Top-down bottom-up window shades are ideal for getting the holiday atmosphere you want in your home. They'll truly make this season merry and bright.
A Feast of Beautiful Light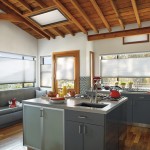 From family arriving from out of town to friends and neighbors just dropping in for a quick visit, the holidays are sure to bring guests. And, guests mean lots of time spent in the kitchen! There's nothing quite like preparing snacks and plating food with gorgeous winter sunlight streaming down from a skylight. But, along with beautiful light, skylights can also bring glare, UV rays, and chill. With top-down bottom-up window shades, you won't have to worry. They'll filter and spread natural light throughout the space and protect your flooring and accents from fading. You can adjust them to block direct rays and insulate to keep out the Cleveland cold. Plus, with PowerView motorization, operation is a cinch. Tapping a button on your Pebble remote, or the screen of your favorite device, moves your shades right where you want them. If you want one less thing to fuss with during the holidays–and who doesn't–set and save the perfect scenes for your window shades throughout the day and schedule them to occur automatically. Then, instead of worrying about your window treatments, you can focus on getting the turkey in the oven and spending time with your family and friends.
A Long Winter's Nap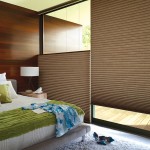 After a long day of traveling or a late night of holiday festivities, your guests need a comfortable place to lay their heads. Setting the perfect holiday atmosphere in your guest bedroom means giving them a private haven for refreshing naps and sleeping in. Top-down bottom-up window shades can do just that. With options for room-darkening, the sun will never interrupt your guests' sweet dreams. Plus, they'll help keep your visitors warm and cozy during our famously cold winters. Energy-efficient shades prevent much of your indoor heating from escaping through your windows to the outdoors. With tons of beautiful fabrics to match your existing guest room decor, your friends and family will feel like they're staying in a five-star hotel! Warm, comfortable, and well-rested…sounds like the perfect recipe for happy holiday guests!
Peace on Earth…and in the Bathroom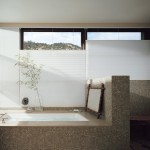 The main bathroom for your guests should carry the feelings of comfort and beauty that radiate throughout the other rooms in your home, and it should also ensure privacy. Being away from home and among unfamiliar surroundings can be uncomfortable enough. The last thing your guests need is to feel exposed to, or walk into, blinding light in the morning. Give the gift of a pleasant stay with top-down bottom-up window shades in the bathroom. Position them for the perfect combination of soft, natural light and privacy. Also, with PowerView motorization, you can be confident that the bathroom is ready for guests without even stepping inside. Programming the shades to automatically adjust means that you won't have to disturb anyone. Your guests will have a private oasis of light, comfort, and privacy, and you'll have one less thing to do. The holidays will be happy for everyone!
Setting the Table and Atmosphere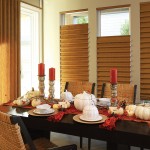 There's no doubt that your dining room will get lots of use during the holidays. It's a place where you really want the perfect atmosphere as you and your guests reminisce and make new memories around the table. Eating in the dark won't boost holiday cheer, and neither will squinting into unyielding glare. Making sure your dining room has proper lighting is a must. That can be hard with large expanses of glass on patio doors and uniquely shaped and sized windows that are often elegant features of your room. Top-down bottom-up window shades will give you versatile light control for whatever your needs are. They're ideal window treatments for sliding glass doors and can be customized to fit all kinds of windows. Not only will they provide excellent lighting, but they'll add style, warmth, and beauty to your space. With top-down bottom-up window shades, you'll cherish moments with your guests in the perfect holiday setting and the beauty and function that your shades provide all year long.
There's not much time left before the holidays and your guests arrive, so start setting the perfect atmosphere in your home now with top-down bottom-up window shades. We know that budgets sometimes tighten during the holidays, so take advantage of sales on a variety of shades during our Season of Style event going on now. We also know that you're busy, so let us help you! At Timan Window Treatments, we want you and your guests to have happy holidays. Let our design experts visit your home to assess your needs; bring samples of fabrics, colors, and textures for you to choose from; and guide you to window and door shades that are just right for you and your home. Contact us today for a free, in-home consultation.