It's early…we know. But, there's no better time to get excited about the upcoming months than with holiday decor. After all, once they're over, don't you find yourself wishing they lasted longer than a day? Are you hosting guests this holiday season? Do you want to create the perfect atmosphere in your home that adds a unique look? Add upscale design and holiday decor to create the right environment for your family and guests this year, making memories that last a lifetime!
A Beautiful Entrance…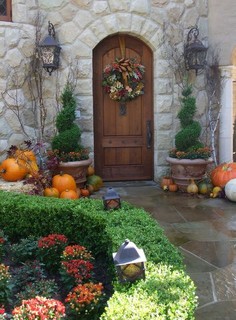 Nothing says, "Welcome to our home!" better than a gorgeous entryway. Style it up with holiday decor that will make your entrance stand out. A beautiful wreath in your favorite colors of the season is the perfect way to add design to the space without feeling like you're decorating for Christmas in October. (No judgment!) And this time of year, adding pumpkins and gourds are a nice way to carry one holiday into the next.  
Delicious Holiday Faire…
The anticipation of the upcoming season is often more about the dining experience than anything else. Favorite recipes, delectable treats, new Pinterest finds…there's always something to look forward to. And, there's always something to be thankful for. Looking for a way to engage your kids or your guests this holiday? We love this Grateful Turkey craft idea. You can also make sure your home is decked out with holiday decor before, during and after meals with a stylish centerpiece. Fall florals and holiday dishware can set your dining area apart. If you're looking for a way to bring the beauty of fall into your home, it's easier than you think! The view just outside your windows can be the perfect backdrop of seasonal colors. Make it enjoyable with window coverings, like sheer shades or plantation shutters, that enhance the view and create a polished look in your home.
Home Away from Home…
If you're having guests stay at your home this holiday, the best thing you can do is ensure their comfort. This is the best time to spruce up your guest room. Chances are, they may be tired from travel and excitement. They won't know where to find the essentials, and some people are just too well-mannered to ask. Create a 'care basket' in your guest room with bottles of water, granola bars, trail mix, mints and chocolate. Another way to ensure comfort? Check for extra blankets in case it gets cool at night. And as for letting them sleep in as late as they can? Room-darkening shades are an amazing investment. Not only will the right window shades let them sleep longer, but the privacy and energy efficiency is invaluable. Comfort is the best way to make sure everyone in your home has the best experience this holiday season.
It's Time for Holiday Decor!
Are you excited about the upcoming season? It's never too early to start planning your holiday decor. And, while it seems a bit soon, time is flying by! Need our help?  We'd love to get you 'holiday ready' with the perfect atmosphere! If you need to add upscale design to your home with fashionable function, new custom window treatments are the way to go! Contact us, at Timan Window Treatments, and get started today!